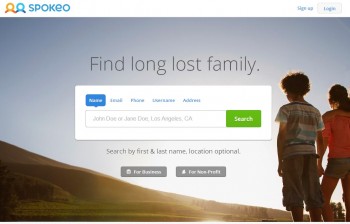 Spokeo.com bills itself as a "people search engine" that culls data from a variety of sources into one easy to use report, enabling you to track down long lost friends and relatives.
Users can easily discover about their "target": Addresses, Email, Social Media Accounts & Marital Status. In addition to personal applications, it promotes itself to business and non-profit organisations as well.
Is It A Scam Or A Good Website?
Responses are varied regarding the validity of using Spokeo.com. There are complaints of misleading, incorrect or missing info, causing many people to consider the site a scam.
At heart, this is a data-mining tool. It simply pulls publicly available information into one format. Those Facebook check-ins? The Flickr images and Pandora playlists? All publicly accessible info, so fair game for the developers at Spokeo to collect, and then report to someone else.
Guide How To Create Free Account & Sign In As A Member
This service is a membership only, and you can get it in two blocks:
Half year memberships are for $3.95 per month.
While three months memberships are $4.95.
Creating an account is fast and easy, and takes only a few moments. By simply entering following standard information your member profile is ready to go:
Name
Address
Credit Card Info
Establishing A Log In & Password
Best Way How To Use Spokeo
Once logged in, you can initiate a search from the friendly main screen by selecting their basis: name, email, username, phone number or address.
The powerful programming then looks through 70 databases to quickly deliver basic facts, family background, online accounts and photos.
Looking up the high school quarterback has never been easier! With one simple click, Spokeo can find hidden profiles, social networks and blogs as well!
Business Tool – It can be used to develop leads as well as locate information on current customers, enabling the business owner to engage the customer with follow up and further sales opportunities.
For Lenders – It is strong support for debt collection purposes as well – gathering contact info on even the most resistant debtors.
Non-Profits – These can benefit from powerful people search engines by generating potential donor bases, identifying demographic facts around specific areas or by retaining present and prior contacts.
Always Stay Within Legal Boundaries
Strict warnings and admonitions to use Spokeo's gathered information for legitimate purposes are posted on their pages. They are informing users that their company is not a credit reporting service, and as such, should not be used for:
Employment
Housing
Volunteer
Credit Eligibility
Attention: Using it in this way is a direct violation of the Fair Credit Reporting Act (FCRA)!
Any Complaints & Privacy Issues?
You should know – in 2012, this company was required to pay $800,000 in civil penalties for promoting themselves as a business tool to "go beyond the resume". By aggressively pushing their service as a way to acquire financial information and background data, they were violating the FCRA.
Potential employees who were denied employment on the basis of stuff found on this website should have been notified of adverse action taken against them. In addition, endorsements of Spokeo on messaging boards, blogs and websites were posted by their employees posing as real users.
Court Claims Against It
Since its introduction to the world, this service has been plagued with concerns by people regarding privacy violations and information accuracy.
In June, 2010, Thomas Robbins filed a lawsuit claiming he was a victim of incorrect stuff posted on their site. The case has slowly weaved its way through the appeals process, first being victorious, then being dismissed and has recently (Feb. 2014) been overturned again when the 9th District Court of Appeals reversed the dismissal and upheld the original ruling.
Attention to the case is continuing as privacy issues develop with the ever widening role of the internet. The collection of personal data can be alarming to individuals, and while the warnings are posted, opponents say, people who use these info for nefarious purposes are not going to be intimidated by bold type.
So while this company can stand behind their claim that they are not promoting illegal usage of the collected info, it is still being sold to anyone who wants to use it.
How To Remove From Spokeo
To remove a listing from this site, just follow these simple steps:
Find the profile URL by completing a search and then copying/pasting the address bar at the top of the web browser.
Enter that individual's URL on www.spokeo.com/optout.
Enter an email to receive an opt-out confirmation, and complete the opt-out process.
Please Note: Most requests are removed within a day. Unfortunately, this only means that the stuff is removed from their databases – the original information (facebook posts, stuff on other social sites, etc) will still remain in place!
Can It Be Used To Catch A Cheating Spouse?
Spokeo can be a valuable tool to locate a lost friend, that high school sweetheart who moved away or to find potential customers in an area.
Using its search engines in an attempt to catch an unfaithful spouse would not be the best use of time. It may discover hidden email addresses and social media profiles, but that stops a long way from catching a cheater.
It may start the conversation, which can lead to further discoveries or admissions down the road, but there are other viable resources that are better suited for this purpose.
Further Resources