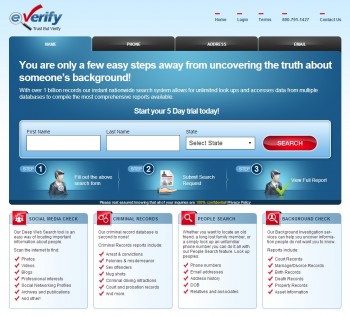 Trust is not something that should be easily given. In the news every day, you hear about people falling for scams, whether by entrusting their business to a criminal or by putting out money on a service or product never delivered.
[Read This: 5 Most Popular Mobile SMS Spy Tools On The Market]
Sometimes, the scam is one of the heart. Maybe you are afraid that your husband or wife is cheating on you and not being honest with their whereabouts when not home.
Unless you are a police detective or member of the FBI or CIA, you don't have the resources to truly investigate someone. That is where eVerify.com comes in. A subscription to this website gives you unlimited background checks a month. The question is, can you trust them?
How Can eVerify.com Help You?
This brand is a search system that has access to many different databases across the country that gathers people's:
If you want to make sure an employee is who he says he is or if you are trying to look up a long lost friend, this company can really help you.
How Does It Work?
When you visit the home page, you will find several ways to do detective work.
Subscription Price: In this digital age, it is actually kind of scary how much stuff can be culled about your personal and professional lives. With a paid membership of $19.95 a month, you can get so much more of it than in the preliminary investigation. Photos, videos and info shared on social media profiles are all fair game.
How To Create & Login To Your Account
Sign Up: To set up your account initially, just start your search and then you will be asked to either pick the 7 day free trial or the monthly membership. Once all your payment information is gathered, you will be given your account username & pass.
Log In: On the home page, you will notice in the main navigation bar a link to the access page where all you have to do is enter your username and password.
[Make Sure To Read: 8 Best Cell Phone Tracker Apps That Will Help You Find The Truth]
Can You Trust eVerify.com With Your Information?
This website has gotten mixed feed-backs from past customers.
Just keep in mind that you should always speak to a live person before giving away your vital information.
Further Resources
Latest posts by David Breckejn (see all)