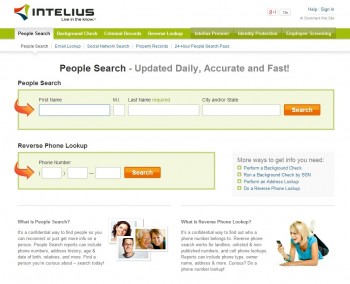 Intelius is one of the most well-known online searches to use in finding out everything there is to know about a person.
Over the years they've received a lot of both praise and criticism, mostly concerning how they conduct business and whether what they do is ethical.
[Hey, Make Sure To Read This: 10 Effective Tips For Preventing Cell Phone Spyware]
In any case, they offer quite a number of features that can really help you in forming a more complete picture of a target individual, whether it's for employment or you strongly suspect them of wrongdoing somehow.
What Is Intelius People Search?
Some of the services that they offer include getting info on individuals through:
Social Networks
Property Records
Email Look-Up
Background Checks
Criminal Records
Reverse Look-Ups Of Phone, Email, Social Networks, Etc
Identity Protection
Employee Screening
Premier Account Benefits
The company has been around for quite some time, so they already have a well-established reputation and services that seem to work as advertised. But some users are not so convinced; many may suspect the company of shady practices, but thus far no one has conclusively proven anything.
Is This Company Legit?
As far as honesty goes, people seem to agree that Intelius can be a little bit misleading when it comes to what they charge you for their services.
[Hey, This Will Definitely Help You: Ultimate Guide To Free Background Check With Tips And Tricks]
Many of their pages imply that you only pay a one-time fee for the results that you get, while in practice, many have been stuck with a $20 monthly charge that they didn't ask for. There may also be hidden additional fees if you want to request more information or do more searches.
As far whether they're a praised business, it seems to me to be on the borderline. They'll typically deliver on what they advertise, but you may be stuck with outcomes on a person with a similar but different name. Others might get exactly what they paid for. Your mileage may vary.
Free People Background Checks
This company will give you basic search results without charging you anything, but in order to get more detailed info you'll need to pay a fee.
The main problem, though, is that they may charge you for a monthly fee without properly notifying you of such. Be aware of this. In any case, the kind of details you can get without any costs might give you a decent starting point.
It's nowhere near as thorough as when you pay for a report, or have a subscription.
Intelius Free vs. Premier Account
Free – This option mostly exists to keep a record of your prior searches and/or keep a method of payment on file so that you don't have to manually enter in payment information whenever you look for somebody, do background check, reverse look-up, or use any other kind of service.
Premier – With this one you'll be investing about $19.95 a month and will get unlimited access to a person's full name, age, aliases, relatives, phone numbers, email addresses, and address history.
[You Might Want To Check Out: 6 Surefire Signs Your Phone Is Bugged]
Keep In Mind: Additional info may require you to pay additional fees; paid account does not guarantee you unlimited access to all public records.
Simple Instructions Where & How To Log In
Logging in is as simple as clicking the "Sign In" link on the top-right corner.
You will need to use:
Your Email Address
Intelius Password
These two details will get you to your account. However, if you don't already have an one you can sign up on the same page.
You only need to provide:
Email Address
Password
A Preferred Method Of Payment
Are There Any Complaints & Lawsuits?
Many of the complaints about this business can be found on a review site like Yelp.com.
Different Info: The number one complaint among these users is that they don't get the results that they want. They still get reports, but they are often on the wrong person, or they didn't get as much info as they were expecting for the amount of money paid.
Lawsuit: A class action lawsuit was brought against Intelius back in September 2013, citing the problem of misleading people into signing up for a monthly membership. It was settled, with Class Members given cash for the trouble. So while the misleading membership may be rectified for now, it's important to note if you plan on doing future business with this company.
Process Of Opting Out
Intelius does offer a way to opt out of being included in any of their search databases.
Their opt-out site lets you attach a form of identification and submit to them so that they can verify which person to remove.
Do note that you need to censor out your photo and driver's license number before you submit anything (as suggested on the opt-out page)!
Further Resources
Latest posts by David Breckejn (see all)