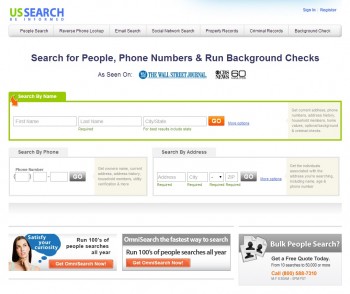 Very often there are times that you need to get vital information on a person.
Often, you might only have limited amounts of details such as a phone number, a name, and/or an address.
[Read This Awesome Guide: Ultimate Guide To Free Background Check With Tips And Tricks]
Just from these, it can be difficult trying to get any kind of real info any individual. US Search helps with this, offering plenty of online tools that allow you to find out as much as possible.
What Is USSearch.com Website All About?
This is a service that lets you discover people using the power of:
Public Databases
Records
Background Checks
It's their business to provide a search engine that sifts through nearly anything that's on public record about a person, no matter what it may be.
Some results may require you to pay a fee for anything but the most basic information (such as what you can find in a phone-book), but it is free to get started.
How Are Background Checks Done?
Those performed by US Search go through a variety of public records including:
Birth
Death
Marriage
Divorce
Real Estate
Criminal Records (Including Sex Offender Registration)
Court Proceedings
Taxes
Business & Professional Licenses
Previous Addresses, Etc.
It also includes items not normally in a background check such as social security verification and cross references with relatives, neighbors, and other aliases. Altogether, this makes the company's service more thorough, accurate, and complete.
Its Main Features
People Search – This is the most prominent feature, where you simply enter in a name, city, and/or state. It's the most basic, but it tends to yield fairly good results that can give you a starting point in your research.
Phone Look-Up – This company offers even this service, where a person's information is looked up based on their phone number. The amount of stuff you get from this can vary depending on whether he or she is unlisted.
Other – A few of the other results offered are based on email, social network, property & criminal records, and of course a background check.
Comparison: US Search Vs. Intelius
Intelius offers very similar services to this one (and in fact is the parent company), with a few extras such as an unlimited subscription, identity protection, and employee screening.
[You Might Want To Check Out: 8 Best Cell Phone Tracker Apps That Will Help You Find The Truth]
Other than that, many of the type of reports that they offer are very similar to US Search, and in fact go through some of the same public records and databases.
One thing of note is that besides reverse phone look-up, they also have cell phone directories, address, and social network.
Pricing & Discounts
This company prices their services by individual reports.
Level 1 – A basic one on a person can cost as little as $1.45, and includes name, age, address, phone number and aliases.
Level 2 – A more advanced one goes for $14.95 and on top of the previous information you get social network searching, email, and maiden name (if applicable).
Level 3 – For $34.95, you get the most thorough and detailed report with info on relatives, associates, marriages and divorces, bankruptcies, taxes, judgments, properties, and more.
What People Are Saying
Most user reviews of US Search seem to be a mixed bag:
Charging Issues – They certainly do offer the services that they advertise, but the main problems lie in how they charge you for reports. The dollar amounts listed on their page are a little misleading since there might be hidden charges when it actually comes down to paying for it, with some users claiming having a monthly charge that they didn't ask for.
High Quality Reports – Other than that, when the results find the right person, it's usually of high quality.
How To Opt Out
If you value your privacy and want to protect your information from prying eyes, there are ways in which you can opt out of having many of your records on public file.
[Hey, Read This: 10 Effective Tips For Preventing Cell Phone Spyware]
The parent company, Intelius, offers a convenient online opt-out form where you can:
Step 1: Attach your identification (with photo and driver's license number censored).
Step 2: Enter in your email address
Step 3: Put in any additional info you want them to know.
Step 4: They'll remove you from their databases.
Is It Worth It?
US Search and similar services can be worth your time if you strongly suspect someone of something they did wrong, whether it's applicable to employment or anything else.
Overall, though, the report cost and fees can add up fairly quickly for what you get, so you need to be sure that you have fairly deep pockets and a strong conviction on a person before you proceed!
Latest posts by David Breckejn (see all)