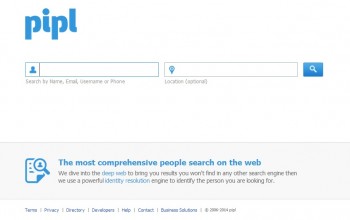 The information superhighway allows you to be able to do things that were virtually impossible without it few years ago.
Within just a few seconds, you can connect to someone on the other side of the world and communicate with them for hours from the comfort of your own home.
In addition to this efficient source of unlimited communication, it can also be used to search for people around the globe as well. However, many of the most popular engines that specialize in finding info on individuals are drastically limited in the records they have available.
This is one of the main reasons why so many of us have placed their trust in the revolutionary service called Pipl.com.
What Is This Website All About?
Pipl was developed to become more efficient than any other similar stuff used today. As mentioned earlier, you will not have to worry about dealing with dead end roads when it comes to finding exactly what you need.
Chances are that you will find more information than you ever expected with each search conducted through their easy-to-do bar to the point where you won't ever want to look for info on individuals through any other site again.
Deep Web & Main Features Of Pipl
The development team working behind the scenes at this page have programmed this internet service to be able to dive deep into the worldwide web to dig up buried results that go unnoticed by many other sites for one reason or another.
Innovative Engine – One of the biggest features that increases its overall performance and efficiency is the revolutionary identity resolution method that has been integrated within the website itself.
Different – Even though you might feel as if the site looks just like any other info searching page that you have used in the past, it is this well-developed identity resolution engine working behind the scenes that makes it easy for this site to separate itself from all of the others.
How Does It Work?
http://www.youtube.com/watch?v=sLkg0zGkceY
The basic interface design of Pipl.com is very similar to many other online services to keep things as simple as possible.
Therefore, you won't have to worry about studying a lengthy sheets of frequently asked questions just to get a basic understanding of how this website works.
How Can You Search For Info
On the homepage, there are two separate fields. The first one allows you to look for people by their:
Name
Email Address
Contact Phone Number
Registered Username
Add Location: In order to better your chances of finding what you want by narrowing your search, you can use the second optional field to specify an area and having full access to the result profile of the person you find.
Look For Tags: You can also click the "directory" link, which is found on homepage, in order to look for tags as well as names. For example, if you don't know the surname of a history professor in your town, you can enter the tag "history professor" along with the location to generate a list of applicable results.
Profile Result Of A Person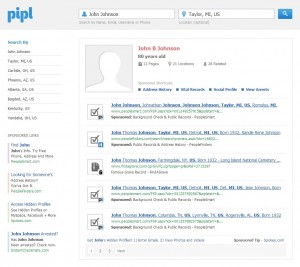 After you have entered the results page of the individual for which you are looking and clicked the magnifying glass, you will be directed to his or her profile page.
On the left-hand side of the screen, you can verify the first and last name as well as select more options if you are interested in conducting an advanced search. You can also filter the results by their exact location as well as their age group.
Within the actual profile itself, you will notice an extensive list of stuff that were generated from an abundance of different websites – which you will be able to access quickly by just clicking the link provided.
Is It Worth Your Time?
A simple and short answer is "yes" if you are tired of using several pages with hopes of finding one person or business in a particular area.
In such a case you should allow Pipl.com to do the majority of this grunt work for you so that you get the results you want in a fraction of the time it would've taken on a different website.
Further Resources
Latest posts by David Breckejn (see all)